After the tediousness of the shirtdress, I needed a palette cleanser!
I'm lucky that my library carries Burdastyle magazines, which is great for queue-jumping inspiration. Their section with "outdoorsy, casual" styles appealed to my desperate need for cute, practical, casual clothes. This one in particular jumped out at me: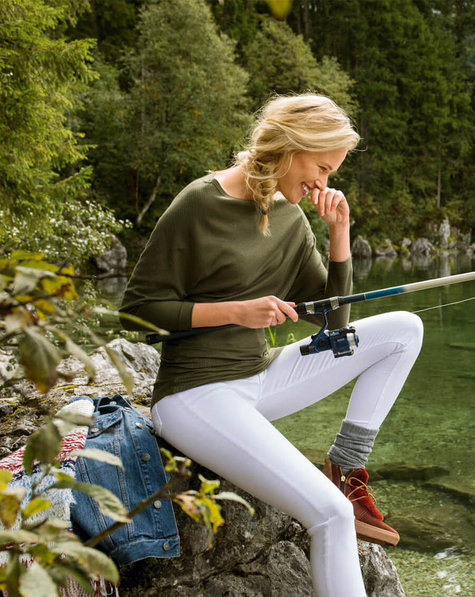 It must have been fate or serendipity, since I had a green jersey that had been sitting in my stash for 2 years… I bought it on a fabric shopping spree in Stockholm when I had just started sewing, since we only have 1 fabric (chain) store in my town. I had some looming guilt about the fact I've only sewn 2 pieces from the haul of 8 (?) fabrics. I even had the price tag still on and was shocked at what I had paid, $15USD/m… Fabric is expensive in Sweden! Makes me wish I had gone on a bigger fabric spree when I was in New York last Christmas 😉
So much to like about the pattern – knits + forgiving fit + forgiving structure + just 2 pieces = speedy! Even if my sewing construction was slightly off (as it always is) you wouldn't be able to tell. I also love asymmetrical cuts since they look so *fancy*! 😀
I was nervous about sewing with knit jersey for the first time. Digging around my sewing room I found a small stash of different sewing needles which I had forgotten I had bought! Since I have a vintage Husqvarna, I was unsure if the needles would even work. Investigating further online, I read that stretch needles don't work well on vintage machines 😦 So I used a sharp, new needle – and you know what? Why was I so scared to sew with knits?! It was probably the easiest sew I've had in awhile! And the twin needle for finishing the hem – WHAT KIND OF MAGIC IS THIS??!!
I think this might look cool in a Breton stripe jersey! Not sure if it's too recognisable to have 2 shirt styles which are so similar. Although, before I started sewing, I occasionally bought 2 of the same style garment if I really liked it – I suppose I'm just self conscious that other people who know I sew will look at it and think – "oh that must be homemade?!"
Pattern Description:
It looks complicated, though it is truly a gem to sew. This jersey top with the bateau neckline and the offset sleeve seam is a quick sewing project that will be a wardrobe favorite right away.
Pattern Sizing:
Made a straight size 36, skipped grading up the hips since the fit is really forgiving
Did it look like the photo/drawing on the pattern envelope once you were done sewing with it?
Yes
Were the instructions easy to follow?
Yes. I didn't read the other reviews, but make sure to mark all seams as well as sides (wrong/right side), otherwise you might not be able to puzzle it together.
What did you particularly like or dislike about the pattern?
So fast and easy, as the top is just 2 pieces! I really recommend this pattern for beginners – this was my first project with jersey and I don't know why I was so afraid of it! No fitting adjustments, no zig zag finishing… this was speedy! Was a great palette cleanser after struggling through a shirtdress. The longest step was probably figuring out how to sew the "sides"! But once I figured it out, it was so satisfying!
The design is really unique, (flattering too I think) and the shirt is so comfy!
Only dislike is that the neckline could be a little "tighter" – it tends to just flop out, since it is only turned under.
Fabric Used:
Cotton jersey I had in my stash for the past 2 years! By coincidence it's the same green hue as what the model is wearing in the magazine… or maybe when I spotted it, it was serendipity that I needed to sew it.
I managed to squeeze the fabric out of 1.2m x 150cm/60″ wide fabric, so if you are on the smaller size range it might be good to know that you can squeeze it out of less fabric!
Pattern alterations or any design changes you made:
Accidentally forgot to add the correct arm hem seam allowance, so it's a little shorter in the sleeves.
Would you sew it again? Would you recommend it to others?
Yes, I recommend it highly! I might sew it in a stripe jersey, although it's a rather unique design to have 2 of this style. The top is rather long, it could almost be a dress, so that is another option.